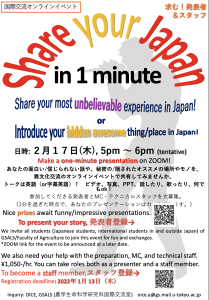 We are pleased to announce that we will be held the "one-minute presentation" event!
 Date & Time: February 17th (Thu), from 5pm to 6pm (tentative)

Share your Japan in 1 minute!
Share your most unbelievable experience in Japan!
or
Introduce your hidden awesome thing/place in Japan!

Please share your funny/unbelievable story or secret/hidden recommended place/thing in our cross-cultural online event!
You can use the 1 minute to show your video, pictures, PPT, just talk, sing, whatever you like.
But beware, we will cut your presentation off after 1 minute!
Nice prizes await funny/impressive presentations.
To present your story,
register here: https://forms.gle/6vorRjxJUtKj9Vui7
We invite all students (Japanese students, international students in and outside Japan) of GSALS/Faculty of Agriculture to join this event for fun and exchanges.

We also need your help with the preparation, MC, and technical staff.
1,050 JY/hr.
You can take roles both as a presenter and a staff member.

To become a staff member,
register here : https://forms.gle/UBSybTKY3itPRR8u9

Registration deadline: January 13th (Thu), 2022
Inquiry: OICE, GSALS (農学生命科学研究科国際交流室) oice.a@gs.mail.u-tokyo.ac.jp